Woombie Air Roses
Woombie Air® Technology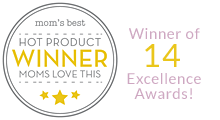 Perfect for ALL SEASONS! Especially for Malaysia's hot and humid weather.
Vented front offers improved air flow
Safer than over wrapping with blanket (over wraping can lead to overheating)
Easy to use!
Dress/undress baby underneath as needed
Patent Pending Design
Certain colors are Limited Edition & will vary per seasons
Size
Age
Woombie Length
Weight
New Born
0-3
months
51-56 cm
from neck to toe
2.5-6 kg
Big Baby
3-6
months
61-66 cm
from neck to toe
6.5-9 kg
The Woombie is a safe & natural way to swaddle your baby, allowing and encouraging baby to softly stretch their extremities as needed- just like in the womb. Our signature bebeflex™ fabric comforts, softly confines arms, hugs the tummy (great for gas) and gently cocoons baby's unique curves, preventing startling issues, face scratching, and also preventing loose unraveled blankets from covering baby's face.
The Woombie is a proud winner of the PTPA (Parent Tested Parent Approved), Moms Best and Creative Child Awards. We have been seen on television, in numerous popular baby magazines and are endorsed by Doctors, Doulas, Postpartum Baby Instructors, Nurses and countless moms and dads worldwide. In a nutshell, The Woombie is a great easy swaddle for babies with the Startle Reflex & who are in need of a cozy yet gentle confinement.
---
How to use a Woombie Swaddle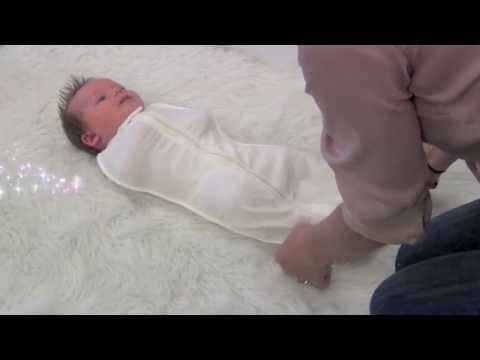 ---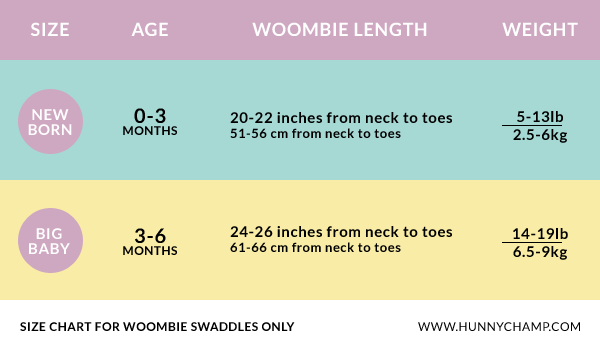 ---
Woombie Features:
Swaddles baby, preventing startle reflex
Double zipper
Signature fabric with bebeflex™ fabric allows mobility and recreates womb-like movements
Prevents face scratching & keeps "busy" hands away from face & pacifier
Will not unravel like a blankets which can ride up and cause potential suffocation
Easy to use (In/Out)
Encourages back sleeping, as swaddled babies are more likely to maintain on their backs while sleeping
Comfortable:
Soft  bebeflex™ ECO cotton fabric gently hugs baby ECO cotton fabric gently hugs baby
Baby feels secure, not confined, easing transition from Womb to World!
Safe:
Follows Pediatrician & S.I.D.S. guidelines
Maintains airflow and will not overheat baby
No loose blankets covering airways
Prevents face scratching
Effective:
Prevents unnecessary waking due to the Startle Reflex/Moro Reflex
Soothes babies with colic
Will not come undone
Promotes natural motor development
Easy to use, just zip it up
---
U.S. Patent No. 8,607,364
Canadian Registered Design No 149324
Australian Registered Design No 348329
European Registered Design No 002164780-001
Only logged in customers who have purchased this product may leave a review.
---