Cleanoz Nasal Aspirator Kit
Why You'll Love It: It's an innovative, ergonomic nasal aspirator that makes it easy and convenient for parents to clean their baby's nose.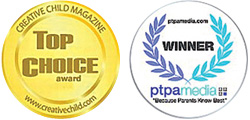 For age Newborn to 3 years
Quick and easy to use
Flexible rubber tip
Helps lower the risk of complications from a cold
Ergonomically designed handle
Includes
Cleanoz nasal aspirator
1 disposable tips
User Manual
Batteries not included
In stock
Cleanoz Nasal Aspirator Kit by Ubimed
The Cleanoz® Nasal Aspirator Kit™ was developed by a Pediatric (Ear, Nose & Throat Specialist) for the special needs of newborns, infants and toddlers. Its innovative, hygienic design and technically-passages. Its ergonomic dolphin design also makes it much easier and more convenient for parents to use. Cleanoz is the first and only battery-powered babies' nasal aspirator to use disposable reservoir nozzles. The Disposable Tips have been specially designed to eliminate bacteria build-up inside the mechanism to safeguard children from potentially harmful germs.No Cross Contamination!
With standard nasal bulb syringes, germs get trapped and can remain inside the syringe after use, even after they are rinsed. Other battery operated nasal aspirators are not designed to block the secretions from getting inside the unit during the suction process making them difficult to clean and can contaminate the inside device. Unfortunately, neither of these types of child nasal aspirators can be taken apart or fully washed and decontaminated after each use.
Fast and Effective – The gentle suction quickly and efficiently clears nasal passages in seconds.
Easy to Use – Cleanoz® features a dolphin-shaped, ergonomic handle so it's comfortable to hold. Best of all, the nozzles are disposable making Cleanoz® a sanitary solution. AND it saves time, since there's no need to clean it after each use.
Gentle – Cleanoz® is specially designed for use on delicate infants and young children. The flexible silicone nozzle tips are soft and comfortable.
Safe – The Cleanoz® disposable nozzle tips have been tested by the North American Science Association, Inc (NASMA). In addition, a protective screw secures the battery pack and the dolphin-shaped design features round edges for additional safety.
Cleanoz is the ideal solution! Simply replace the disposable, flexible silicone reservoir nozzle tips after use: One per day for the same baby;
Cleanoz Nasal Aspirator Kit comes with Batteries and 3 disposable tips included. One Cleanoz Nasal Aspirator may be used for multiples, Use simply one Tip per baby!
Warranty: 3 Years Limited Warranty
---