Buying the Right Woombie Swaddle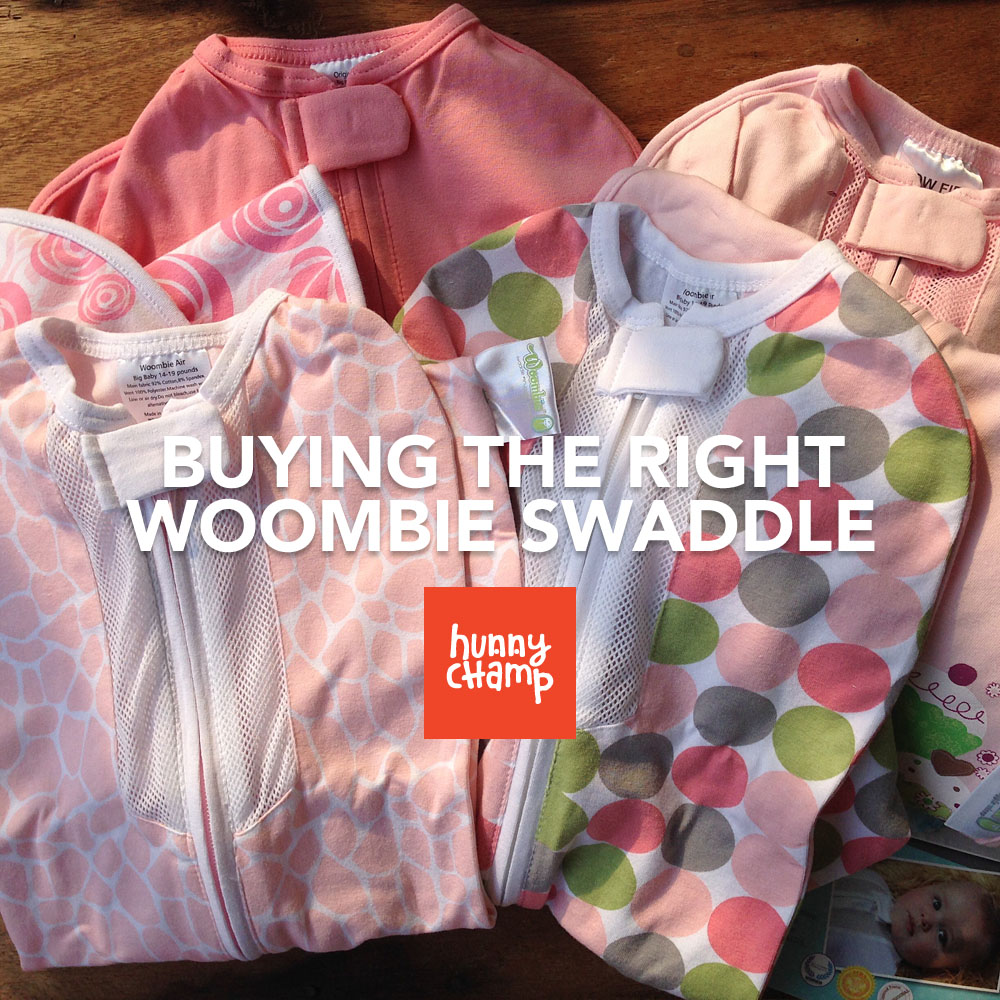 As new or seasoned parents, we always like to get the best and get it right when it comes to our baby.
The product choices out in the market seems to go on forever.
Here, we would like to provide a little more information to help parents to make a better decision in buying the right Woombie swaddle for their baby.
At HunnyChamp.com we carry the Woombie swaddles, designed in the USA and made in an eco-friendly manner in China and India.
The guiding light for the Woombie is based on the theme SWADDLE, SNUGGLE, AND SLEEP.
They follow a strict compliance per CPSIA standards where safety testing using CPSIA standards and testing in a CPSIA third party accredited  testing facility are of the utmost top priority.
What that does not pass the testing, will never be sold. It rings true with the core belief of Hunny Champ, where what we won't use ourselves, we won't sell.
Woombie Safety Standards
Woombie products go through demanding testing standards:
Less than 300 ppm lead, no phthalates
Hazards (zipper torque, snap strength, small parts, points)
Flammability
Safety (monofilament thread)
Lead in Surface coating and substrates
Formaldehyde
Zipper strength
Product labeling
Colorfastness/Appearance after laundering
TOG appropriateness
Skewing/torque
Dimensional stability
Woombie TOG Guide
Below is the TOG Guide, a Tog measurement is a European warmth rating: the higher the tog, the warmer the product.
0.2 Tog = best for 75F+ | 1.0 Tog= best for 68F-75F | 2.0 Tog=best for  65F-71F
0.2 Tog – Summer Woombie, AIR Wrap
1.0 Tog – Original Woombie, Organic, Woombie AIR, Convertible with vent
1.5 Tog – Houdini, Convertible no vent
2.0 Tog – Woombie Ultra Sleepers and Winter Woombie
*The bold text are the ones we carry in HunnyChamp.com
Woombie Designs
We carry 5 different styles of Woombies, the Original, Air, Convertible, Summer and Summer Onesie.
All Woombie swaddles are made with a Cotton/Spandex blend.
Woombie Original/Summer Onesie – Made with a fabric similar to a tee-shirt. It provides the average swaddle for the average baby's needs. Light, breathable.
Woombie Air/Convertible – Slightly tighter weave when compared to the above. Less stretchy, more swaddle.
We have had parents concerned with the Woombie being too warm for their baby especially in the Malaysian weather.
We would like to assure the parents that Woombie swaddles fits right in Malaysia's hot and humid weather.
Check out the Woombie swaddles here
Woombie Swaddling Tips
Always follow the recommended size guidelines on our product, never skipping sizes
Sizes should be ordered in accordance with weight, not age or length
Rolling is a sign to stop swaddling. If your baby begins to roll from back to stomach while swaddled, please discontinue use
Always position baby on his/her back to sleep
If needed, you may customize the neck opening by:

Stretching collar out before use
Leaving zipper down up to 1 inch

Baby should be lightly clothed for sleep at a room temperature of 67-72º & never feel hot or cool to touch
Do not use on undersized infants
Do not allow fabric to cover infants mouth or nose
If you have any questions or need help in buying the right Woombie swaddle, please do not hesitate to contact us via Whatsapp (011-2858 8420) or email us at lilhunnychamp@gmail.com